About the authors
Gene S. Helfman
Douglas E. Facey
Bruce Collette
Brian Bowen
---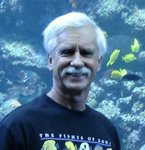 Gene S. Helfman

Emeritus Professor of Ecology
University of Georgia
A.B. Zoology, University of California, Berkeley 1967
M.S., Zoology, University of Hawaii, 1973
Ph.D., Zoology, Cornell University, 1977
Research interests: Conservation ecology of fishes.
I've been fascinated by fishes since I was maybe 10. While in high school I collected sharks for a prof at UCLA. By the time I graduated from UC Berkeley, I had fished commercially for salmon in Central California and for gamefish in Hawaii, learned to scuba dive, and made aquarium observations of minnow behavior. I also collected fishes for the UC Museum of Natural History and managed their fish collection.
After graduation, I went into the Peace Corps and spent 3 years in Palau in a fishery conservation program. I fished commercially, recreationally, for research and for subsistence, and fell in love with coral reefs. That experience propelled me to the University of Hawaii for my masters research and much diving and fishing in Hawaii and Enewetak in the Marshall Islands. From there I went to Cornell University for a Ph.D., where I studied day-night and seasonal activity patterns of lake fishes.
I next joined the faculty of the Department of Zoology (later the Institute of Ecology) at the University of Georgia. I taught ichthyology, animal behavior, and conservation ecology for 30 years and conducted research on coral reef fishes, American eels, striped bass, sturgeon, and stream fishes, again largely underwater. My interests gravitated increasingly toward conservation of fishes and their habitats, culminating in writing a reference book, "Fish Conservation: A Guide to Understanding and Restoring Global Aquatic Biodiversity and Fishery Resources" (Island Press, 2007).
I retired from UGA in 2007 and moved to Lopez Island in Washington State. I'm still actively engaged in conservation work, now focused largely on the salmon of the Pacific Northwest, for which I fish off a 28 ft sailboat. They're pretty safe from me.
---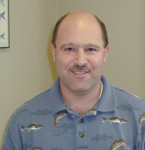 Douglas E. Facey

Professor of Biology
Saint Michael's College
B.S., Biology, University of Maine - Orono, 1976
M.S., Zoology, University of Vermont, 1980
Ph.D., Zoology, University of Georgia, 1987
Research interests: Fish physiology and ecology.
I grew up on Long Island, New York and my father enjoyed fishing, so for our family summer vacations we usually rented a camp on a lake in upstate New York or Vermont. One summer while in high school, I also spent some time fishing off of the south shore of Long Island. Recreational fishing exposed me to a variety of fishes and had a big impact on my developing a strong interest in their biology. I also was influenced by the National Geographic television series "The Undersea World of Jacques Cousteau" – and thought that I might go into marine biology.
While in college at the University of Maine, my interests switched more toward freshwater fishes – in part because of my recreational interest in fishing, and also because I spent two summers working on the restoration of Atlantic salmon in the Penobscot River in Maine. I was also fortunate enough to have the opportunity to do research with juvenile Atlantic salmon as part of my undergraduate program.
After graduating from the University of Maine, I went to the University of Vermont in 1977 for my Master's degree. My Master's research focused on American eels, but I also assisted with several other projects and broadened my experience with the fishes of Lake Champlain. After completing my Master's degree and working for two years in the natural resources field, I went on to a Ph.D. program at the University of Georgia where I initially continued studying American eels, but then shifted to the physiological ecology of stream fishes. Living and studying in Georgia also exposed me to the amazing diversity of fishes in southern lakes and rivers.
Upon completing my Ph.D., I taught in South Carolina for a few years, but returned to Vermont in 1990 to join the faculty at Saint Michael's College, where I teach a variety of courses in the Biology Department and maintain a research program focusing on fishes in Lake Champlain and its tributaries.
---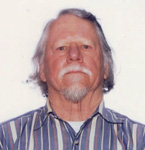 Bruce Collette


I was born in Brooklyn in 1934 and my parents then moved to England for a few years and Panama for a few more years. From 2nd grade on, I grew up in Rockville Centre, Long Island, NY and spent summers at Forest Lake Camp in the Adirondacks where I developed my interest in animals.
While collecting spring peepers when I was in high school, I found that different frogs had different background colors. This led to experiments with variables such as temperature, excitement, and background color. My project did well at the Long Island Science Congress and sent me on to the first New York State Science Congress.
After graduating from South Side High School in Rockville Centre in 1952, I went to Cornell University to continue my biological interests and received my BS from the Department of Conservation in 1956. I entered graduate school at Cornell and received my Ph.D. in ichthyology in 1960. My dissertation was a taxonomic study of a group of small freshwater fishes called darters, one species of which occurs on Long Island in lakes Ronkonkoma and Yaphank.
While visiting my parents who moved to Cuba in 1952, I found that some lizards ran up fence posts and others ran down to the ground. They were different species, Anolis porcatus running up and Anolis sagrei running down. The former species has more lamellae on its feet than the latter and so is better adapted for an arboreal life. The project turned into my first paper at a scientific meeting, of the American Society of Ichthyologists and Herpetologists in Higgins Lake in 1956 where I won the Stoye Award for the best student paper in herpetology.
After 6 months active duty for training in the Medical Service Corps at Fort Sam Houston in San Antonio, TX, I accepted a position as a systematic ichthyologist at the National Systematics Laboratory, Bureau of Commercial Fisheries, U.S. Fish & Wildlife Service, now the National Marine Fisheries Service, National Oceanographic and Atmospheric Agency. The Systematics Laboratory is located in the National Museum of Natural History of the Smithsonian Institution in Washington, D.C. where I conduct basic research on the systematics, anatomy, and zoogeography of fishes. This research has entailed visits to all the major fish collections in the world, collecting expeditions on various vessels, using SCUBA to collect reef fishes, and living in an underwater habitat for two weeks.
I have the best job in the world! This museum is the perfect place to study animals because of the extensive collections, the comprehensive library, the numerous colleagues, and the constant stream of interns, students, and visitors from almost every museum in the world. I study epipelagic fishes, particularly tunas and their relatives which are important commercial and recreational fishes. Their external morphology is convergent due to hydrodynamic constraints so it is necessary to study internal characters - position of the viscera, anterior circulatory system (which enables higher tunas to be warm-blooded), and osteology.
Each of my five major tuna papers - tunas, bonitos, Spanish mackerels, double-lined mackerels, and frigate tunas took 5-8 years to produce - accumulating fresh and frozen from all over the world, dissecting, studying the osteology, reviewing the literature, writing. This would have been difficult to accomplish at a university dependent on NSF or other grant funding.
Results of my research have been published in over 250 papers in many scientific journals plus three books: "The Diversity of Fishes"; "The Fishes of Bermuda", and "Bigelow and Schroeder's Fishes of the Gulf Of Maine", a completely revised update of a classic book.
In addition to research, I have been very active in scientific societies and have served as an officer in several of them. For 40 years, I have used my summer vacation to teach an intense course on the biology of fishes, first at the Institute of Marine Science of Northeastern University at Nahant, MA, then at the Bermuda Biological Station, and most recently at the Shoals Marine Lab on Appledore Island, Isle of Shoals in the Gulf of Maine. I also have adjunct appointments at Northeastern University and the Virginia Institute of Marine Sciences and serve on M.S. and Ph.D. committees of students at these and other universities.
---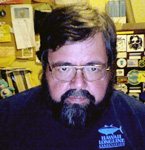 Brian W. Bowen

Associate Professor
University of Hawaii
B.S., Biology, Providence College, 1981
M.A., Marine Science, William and Mary, 1986
Ph.D., University of Georgia, 1992
Research interests: Phylogeography and conservation genetics of marine vertebrates

Web site: http://www.hawaii.edu/HIMB/Faculty/bowen.html
During the summers of my youth, the family vacationed on Cape Cod, where I would snorkel around the jetties for hours. I encountered fascinating fish including Striped Bass, and occasionally saw sharks, tunas, whales, and other marine megafauna. A career in marine biology was born in those waters.
My supervisors at Portsmouth Abbey School advised against a career in fish biology, invoking poor job prospects, and convinced me instead to train in the biomedical field. After two years in the bio-engineering program at University of Rochester, I flunked out. Lacking the discipline to pursue this intense career track, I resumed my original path in fish studies, and was accepted at Providence College for a B.S. under Dr. Hank Donahue. His love of nature reinforced my aspirations to find a career in ichthyology, and subsequently I applied for graduate programs with a focus on marine fishes. I obtained a M.A. from Virginia Institute of Marine Science (at the College of William and Mary) under John Musick, a great natural historian, working on White Perch population genetics in Robert Chapman's lab at Johns Hopkins University.
With this background in fish biology and genetics, I began a Ph.D. at University of Georgia under John Avise in 1986. John admitted me to work on marine fishes of the southeast U.S., but I subsequently switched to a dissertation project on marine turtles. Dr. Avise tolerated this change with characteristic good humor and illustrious guidance. The ichthyologist at University of Georgia, Dr. Gene Helfman, was less tolerant of the switch and declined to be on my thesis committee.
As an assistant professor at University of Florida, I worked with the Archie Carr Center for Sea Turtle Research, but also resumed my original focus on marine fishes. With a grant from the National Science Foundation, I compared reef-associated species from the four tropical biogeographic provinces of the Atlantic, assisted by graduate student Luiz Rocha.
Currently I am an Associate Professor at the Hawaii Institute of Marine Biology, a research facility of the School of Oceanography at University of Hawaii. My research focus is on the conservation genetics and phylogeography of marine vertebrates, with special emphasis on the Papahanaumokuakea Marine National Monument in the Northwest Hawaiian Islands. This research program is designed to serve conservation goals by illuminating the evolutionary processes that generate and maintain biodiversity. In this effort I have benefited greatly from the mentorship of Dr. John Randall.
---