Phenetic species concept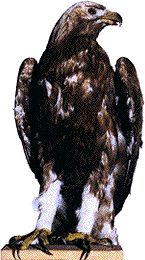 The phenetic species concept can be thought of as an extension of the way species are recognized in practice. Species, such as this golden eagle, are recognized by morphological characters; the pheneticist then says that species are groups of individuals with certain morphological characters.
Informally, the phenetic species concept defines a species as a set of organisms that look similar to each other and distinct from other sets. More formally, it would specify some exact degree of phenetic similarity, and similarity would be measured by a phenetic distance statistic.
In practice, the phenetic concept measures as many characters as possible in as many organisms as possible, and then recognizes phenetic clusters by multivariate statistics. These clusters approximate to a level of similarity sufficient to be called a species.
The phenetic species concept can be criticized on theoretical grounds and should be compared with the biological, ecological and recognition species concepts.
Why do many biologists object to the phenetic species concept?