Welcome to Wiley-Blackwell's Globalization Gateway
Welcome to the Globalization Gateway, the first stop for Wiley-Blackwell products and resources in globalization studies. At the forefront of this exciting field, Wiley-Blackwell can support you whether you teach or study in the area. Below there are links through to the supplementary websites for our two new textbooks and you can use the side menu bar to navigate through our wide range of products and extra resources in globalization.

Globalization: A Basic Text
"With great clarity and historical reflection, Ritzer guides readers on a grand tour of globalization and its many facets."
James H. Mittelman, American University
As the first full-scale textbook of its kind, this book provides a balanced introduction to the major topics in globalization studies for undergraduates throughout the world. Descriptive and critical, it makes use of maps extensively, includes a glossary of key terms, and features a supporting website with resources for both students and instructors.
Globalization: The Making of World Society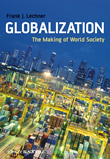 "Frank Lechner's text takes on key issues in the study of globalization with real clarity and critical power."
Fran Tonkiss, London School of Economics
This stimulating, state-of-the-art textbook shows how globalization affects everyday experience, creates new institutions, and presents new challenges. With a range of supplementary online resources, including an Instructor Manual, Student Study Guide, and additional study questions, it is designed to suit your undergraduate level globalization course.