Evaluation of the in vitro activity of levofloxacin and moxifloxacin tested against Stenotrophomonas maltophilia: can moxifloxacin activity be predicted by levofloxacin MIC results?
Abstract number: 1733_1133
Gales A., Jones R., Janechek M., Sader H.
Objective: To evaluate the in vitro activity of levofloxacin (LEV) and moxifloxacin (MXF) tested against S. maltophilia and the correlation between MIC values for these fluoroquinolones (FQ) compounds in order to assess if LEV susceptible (S) strains could be categorised as MXF-S.
Methods: A total of 763 unique S. maltophilia strains collected worldwide through the SENTRY Antimicrobial Surveillance Program (2002–2005) were tested for S against LEV, MXF and selected antimicrobials by broth microdilution methods according to CLSI guidelines. MIC results were interpreted according to CLSI and EUCAST breakpoints. CLSI has LEV breakpoints of (S/resistant [R] in mg/L) ≤2/≥8 for S. maltophilia and other Gram-negative bacilli (GNB) and no MXF breakpoints except for Gram-positive pathogens; while EUCAST has GNB breakpoints for LEV (≤1/≥4 for Enterobacteriaceae [ENT], Acinetobacter and P. aeruginosa) and MXF (≤0.5/≥2 for ENT only).
Results: LEV showed good in vitro activity against S. maltophilia (MIC50, 1 mg/L and MIC90, 2 mg/L) with 85.8% S at the CLSI breakpoint, but only 70.3% if EUCAST breakpoints were applied. Scattergram with the correlation between the MXF and LEV MIC results is shown in the comparison Figure.
By applying the CLSI LEV breakpoints (≤2/≥8 mg/L) and MXF breakpoints at ≤1/≥4 mg/L, the overall categorical agreement was 95.5% with only 0.1% very major (VM; false-S), no major (MA; false-R) and 4.3% minor (MI) errors. Using EUCAST ENT breakpoints (LEV includes P. aeruginosa and Acinetobacter spp.), the overall agreement was 93.3% with no VM or MA error and 7.7% MI error. S rates for ciprofloxacin were 29.5 and 10.0% when GBN S breakpoints of CLSI and EUCAST were applied, respectively.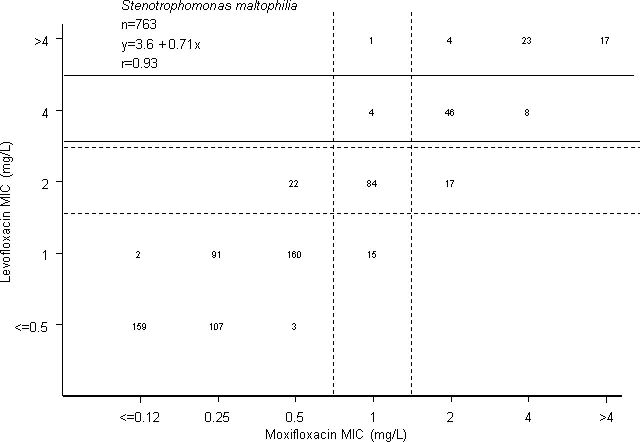 Scattergram showing correlation between levofloxacin and moxifloxacin MIC results for S. maltophilia. Solid lines indicate CLSI breakpoints, dashed lines indicates EUCAST breakpoints.
Conclusions: The spectrum of LEV against S. maltophilia decreases significantly if EUCAST breakpoints are used in preference to CLSI breakpoints. There was an excellent correlation (r = 0.93) between LEV and MXF MIC results and categorical results for LEV may be used to predict categorical results for MXF if breakpoints were one doubling dilution lower than that of LEV. However, clinical studies may be necessary to establish the role of these FQs in the treatment of S. maltophilia infections, but achieving a critical number of case studies would be difficult.