A risk score for unfavourable outcome in adults with bacterial meningitis
Abstract number: 1733_706
Weisfelt M., van de Beek D., Spanjaard L., Reitsma J.B., de Gans J.
Objectives: Clinical deterioration in bacterial meningitis can occur rapidly and is often difficult to predict. Identification of high-risk patients would be helpful in decision-making regarding the management of individual patients. The aim of the present study was to derive and validate a simple risk score to predict the risk for an unfavourable outcome in individual adults with community-acquired bacterial meningitis.
Methods: We derived a score for the risk of an unfavourable outcome by performing a multivariate logistic regression analysis of data from a prospective nationwide cohort study (Dutch Meningitis Cohort, DMC; n = 696). A key set of independent prognostic variables was selected from a starting set of 22 potential predictors by backward elimination procedure using bootstrap techniques to avoid the inclusion of spurious variables. A nomogram based on these key variables was constructed to facilitate the use in clinical practice. For validation, we used data from a randomised controlled trial of adjunctive dexamethasone therapy for adults with bacterial meningitis (European Dexamethasone Study, EDS; n = 301).
Results: Of the 696 episodes in the DMC, 237 (34%) had an unfavourable outcome, including 143 patients (21%) who died. The risk score was based on 6 routinely available variables: age, heart rate, score on the Glasgow Coma Scale, cranial nerve palsies, cerebrospinal fluid leukocyte count, and Gram-positive cocci in cerebrospinal fluid Gram's stain (figure 1). The concordance index for the final risk score in the EDS was 0.73 (95% confidence interval 0.65–0.80).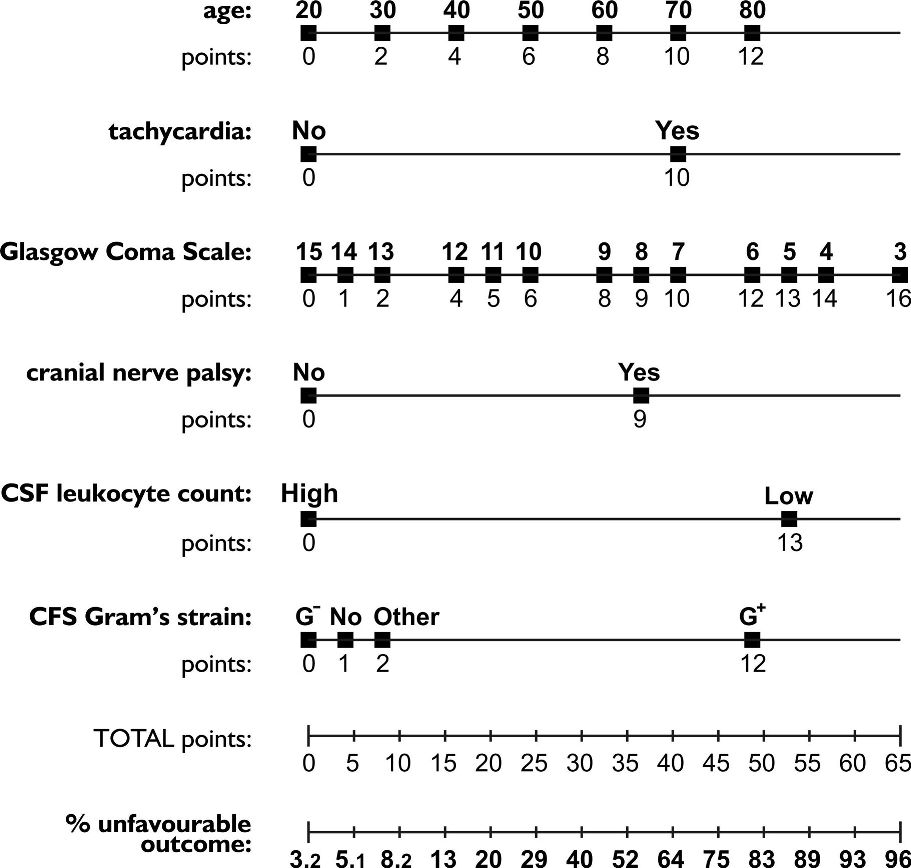 Conclusion: This bedside risk score can be used to reliably predict the individual risk for unfavourable outcome in adults with community-acquired bacterial meningitis.