Modification of a haemolytic assay for the measurement of functional human mannose-binding lectin by classical pathway inhibition
Abstract number: 1733_298
de Jong B.A.W., Herpers B.L., Dekker B., Aerts P.C., van Dijk H., Rijkers G.T., van Velzen-Blad H.
Objective: Low levels of functional mannose-binding lectin (MBL), impairing early complement activation via the lectin pathway, have been associated with disease. Therefore, diagnostic procedures for MBL levels and lectin pathway activity are widely performed. In a previously described assay MBL levels are measured by bystander-haemolysis after binding mannan on Saccharomyces cerevisiae (Kuipers et al, 2002). All down-stream complement components are provided by MBL-deficient serum. As both the ligand-binding and complement-activating properties are assessed simultaneously without interference of down-stream deficiencies, this is the only assay to quantitatively measure the level of functional MBL. Interference by classical pathway activity has been postulated, for example by C1q-binding immune complex formation of antibodies to S. cerevisiae (ASCA). Here we describe the classical pathway interference in the haemolytic MBL assay and the modification of this assay to prevent this artifact.
Methods: To determine the minimal inhibitory concentration, classical pathway activity was inhibited in a CH50 assay by preincubation of three 1:10 diluted ASCA-positive test sera with 0–150 ug/mL anti-C1q monoclonal antibodies. To examine the interference of classical pathway activity in the functional MBL assay, haemolytic activity was assessed in the MBL assay in absence and presence of 50 ug/mL anti-C1q in the three ASCA-positive sera and in 35 selected sera of donors with known genotypes.
Results: Anti-C1q inhibited all classical pathway activity dose-dependently, with full inhibition at 50 ug/mL. In three selected ASCA-positive sera, anti-C1q decreased haemolysis in the MBL assay in two samples (figure 1a).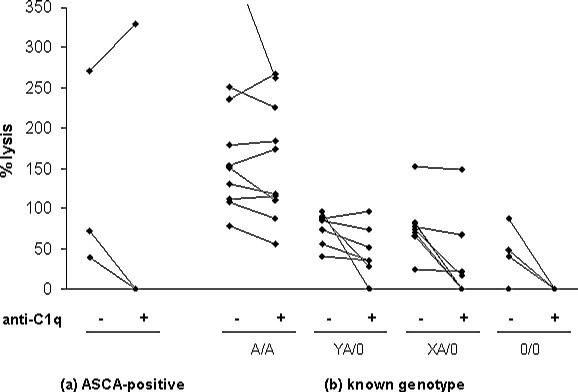 Figure 1. Effect of anti-C1q on haemolysis in the haemolytic MBL assay in (a) three selected ASCA-positive sera and (b) 35 sera of known genotypes.
Most of the 35 selected sera did not show a significant difference with or without anti-C1q (figure 1b). A striking effect was found in some sera from donors with deficient genotypes XA/0 and 0/0, where anti-C1q decreased haemolytic activity completely.
Conclusion: The haemolytic MBL assay is designed to measure functional MBL levels by its ability to bind its ligand and activating complement, without interference of down-stream deficiencies. However, in some samples classical pathway activity can interfere with this functional MBL measurement, either via ASCA or other C1q-binding immune complex formation. This interference can and should be inhibited by anti-C1q to prevent that MBL deficiency is overlooked and patients are misdiagnosed.