Heteregeneous but higher adhesive properties of hospital-acquired MRSA Lyon clone isolates in comparison to MSSA isolates
Abstract number: 1732_80
Ferry T., de Bentzmann S., Mayor L., Bes M., Vandenesch F., Etienne J.
Objectives: The success of pandemic hospital-acquired MRSA clones may be due to high adhesive properties. Adhesion is mediated by various different cell wall proteins called adhesins that are tightly regulated. The accessory gene regulator (agr) is one acting regulator. agr dysfunction is associated with overexpression of certain adhesins and seems to be responsible of the success of the CMRSA-3 clone in Canada. In this way, we compared adhesive properties, the adhesin gene content and the functionality of agr of MRSA Lyon clone isolates to those of MSSA isolates.
Methods: We studied S. aureus isolates responsible for bloodstream infections in intensive care units in 2003. Nineteen isolates were susceptible to methicillin and 13 MRSA isolates had characteristics of the MRSA Lyon clone (sequence type 8, agr allele type 1 and positive for the sea gene). The binding behaviour onto airway epithelial cells (HAECs) were determined by quantifying the number of adherent bacteria per cell (30 cells per strain were used). The adhesin gene profile (bbp, can, eno, ebpS, fib, clfA, clfB, fnbA and fnbB) was determined with multiplex PCR for each isolates. The dysfunction of agr was detected by the absence of delta-haemolysin production.
Results: The number of S. aureus isolates per cell was more homogeneous for MSSA isolates than MRSA isolates, but the adhesion of MRSA isolates was significantly higher than MSSA isolates (68.94 ± 8.483 and 34.31 ± 3.446, respectively, p < 0.001) (Figure). MRSA isolates were all positive for eno, fib, clfA, clfB, fnbA and fnbB, only. MSSA isolates were all positive for eno, clfA, clfB and fnbB and inconstantly positive for others. The absence of delta-haemolysin production tended to be more frequent among MRSA isolates (7/13 versus 16/19 isolates), but the difference was not significant (p = 0.11). No correlation between the adhesive property and the absence of delta-haemolysin production was observed, both in MRSA and in MSSA isolates.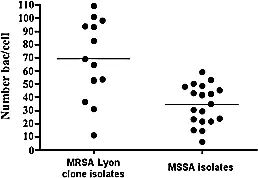 Conclusion: We demonstrated that adhesive properties onto HAECs of MRSA Lyon clone isolates was higher than that MSSA isolates, but was heterogeneous despite similar genetic background and adhesin gene profile. This could be the result of overexpression of adhesins independently of an agr dysfunction.